MJT NEVADOS S wins 2015 FEI World Breeding Jumping Championships!
21 September 2015 · Category: Sport, Time for Polish Horses · Breed: sp
A great suc­cess for the begin­ning of sports career! This is how we can describe MJT Nevados S 2015 FEI World Breeding Jumping Champion title. He won the pres­ti­gi­ous golden medal in the most dif­fi­cult cat­egory – the 7-year-olds in show jump­ing.
MJT Nevados S (by Calvados Z holszt., out of Nestia sp by Romualdo KWPN) is a Polish Halfbred (sp) stal­lion entered to PZHK stud­book. In 2006 his sire Holsteiner Calvados Z (born 2001, by Chellano Z) rid­den by Roelof Brill won the World Championships for Young Horses in Lanaken. His dam, Polish Halfbred mare Nestia S (born 2004, by KWPN stal­lion Romualdo), is one of the best brood­mares in her stud. Elegant, mod­ern-type, out­stand­ing in free jump­ing, the mare is bred to top sires every year.
MJT Nevados S was born in 2008 in Liszkowo, at a stud farm owned by Stanisław Szurik who spe­cial­ises in show jump­ing horse breed­ing. The then stud man­ager Krzysztof Kierzek jokes "MJT Nevados S was an extremely lively foal, he star­ted nurs­ing before he was born". The stallion's cur­rent own­er is Makrum Jumping Team com­pany. Its goal for MJT Nevados S is to enter the top sport. The com­pany owns more sport horses, all of whom have MJT ini­tial­ism in their names.
MJT Nevados S was already stand­ing out at region­al breed­ing shows and free-jump­ing com­pet­i­tions organ­ised by Kuyavian-Pomeranian Horse Breeders Association. In the first two years of his sports career he was rid­den by Jacek Zagor. The pair won Polish Show Jumping Championships for Young Horses in 2012 and 2013 (4yo and 5yo). Knowing the qual­ity of his horse the own­er decided to trans­fer MJT Nevados S to a Belgian ath­lete Gregor Wathelet. This new pair star­ted the 2015 sport sea­son in Vejer de la Frontera (ESP) in February and went smoothly through oth­er com­pet­i­tions to the most import­ant one – FEI World Breeding Jumping Championships in Lanaken (BEL). MJT Nevados S placed 5th out of 208 horses that took part in the first qual­i­fi­er for the cham­pi­on­ship. He jumped clear also in the second qual­i­fi­er, and was eli­gible for the final, where Wathelet and MJT Nevados S were the quick­est pair and jumped clear one more time. With a res­ult of 0 pen­al­ties and 34.97s they won gold medal. This is what Gregory Wathelet said about the horse later on:
"He star­ted the sea­son on the Sunshine Tour where he jumped well, and in the Belgian Championships at Lummen I had one down in the jump off because he was not used to going fast. Before I came here I trained him to go quickly, and that train­ing was suc­cess­ful. I knew he was very care­ful, but in the begin­ning I didn't know if he had enough scope – now he is going bet­ter every week! This week he jumped eas­ily, even in the Final in which the course was quite big but it all felt easy. This horse is def­in­itely not for sale!" (FEI Press release, 20 Sep 2015)
We are happy that Stanisław Szurik decided to register MJT Nevados S in Polish Horse Breeders Association and enter him to the Studbook for Polish Halfbred Horse. We hope that his future career will be a great example of suc­cess­ful Polish sport horse breed­ing.
Sincere con­grat­u­la­tions to Stanisław Szurik and Makrum Jumping Team.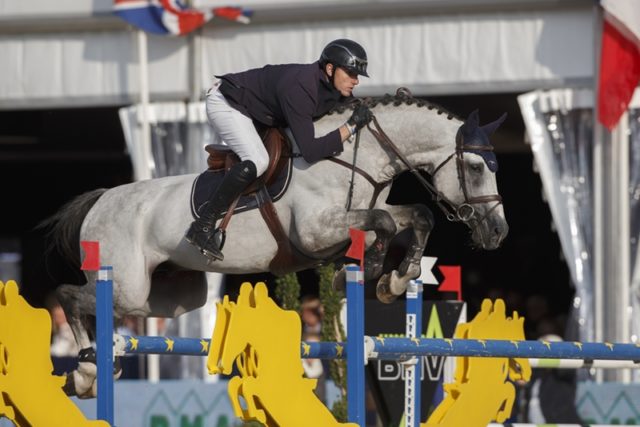 MJT Nevados S – Wathelet Gregory (BEL)
© Hippo Foto – Dirk Caremans